Discover the dark heart of Skyrim and stop the ancient supernatural threat on the Elder Scrolls Online: Greymoor, now lives on Xbox One! Few months ago, at a special reveal event in Las Vegas, NV (Live Broadcast) ZeniMax Online Studio announced the next two main content on the theme of Skyrim, which will be published on the Elder Scrolls Online, to Break the year-long storyline of "Skyrim's Dark Heart". Now, the expansion of the next major chapter: Greymoor, which is for PC/Mac on May 18, 2020 and released for PlayStation 4/Xbox One.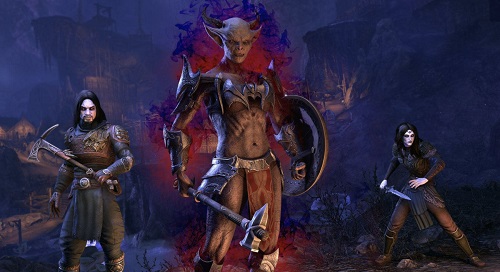 In The Elder Scrolls Online: Greymoor, you can finally explore the favorite areas of "Western Skyrim" fans and experience the hometown of the Nords 1000 years before the "The Elder Scrolls V: Skyrim" event. Brand new story.
In the main storyline of the Greymoor, you will fight an ancient monster and unravel an ancient conspiracy that threatens not only the people of West Horizon, but also the entire Tamir. With the help of your allies (including the indomitable Lyris Titanborn from the ESO base game), you must stop this dark conspiracy before it defeats Skyrim's defenders. A part of Skyrim's year-long adventure in the Heart of Darkness, events in the Greymoor chapter will affect the rest of the year, but don't worry, you don't need to complete these stories in any particular order, you can jump this epic Story at any time this year!
Vampire Skill Line RE-VAMP
This time we're fighting vampires. Vampires, like werewolves, already have limited capabilities in the Elder Scroll Online, but just as vampires have become a major part of Skyrim through their Dawnguard DLC, Greymoor is also focusing on vampires in its expansion to Skyrim.
"The vampire skill line has not changed significantly from the beginning, except for some small battle balance adjustments," said Kyle Nowak, the updated combat designer explained. "Considering the timing of this chapter and the feedback we have seen from players over the years, I think it is time."
Therefore, the team has made tremendous changes and additions to the skill line, including creating completely new skills and replacing or updating existing skills. The purpose of the redesign is to make the vampire more active and engaged in the battle.
The easiest way to become a vampire is to buy a vampire through the Crown Store. It costs a total of 1500 kronor, which is a lot of overhead, and it is usually not worth it, because the other two methods are not costly, and it takes about 20 minutes to complete the entire task.
In addition to the aforementioned powerful synergy, the vampire has a brand new ultimate ability called the Son of Blood, which can turn your character into a huge beast. In this form, you will enjoy health, stamina, and magic pool improvements, the ability to heal yourself when dealing damage, and see enemies passing through walls. No one can escape your anger.
Are you ready to stalk your prey as an all-new Vampire? Get more details from MMOSKY.com