Buy Game of Sultans Diamonds top up on MMOSKY
Playing Game of Sultans  can become expensive if you consistently purchase virtual currency. Fortunately, there is an affordable, convenient, and reliable service for Game of Sultans Diamonds Top Up.
In the game, the primary virtual currency is Diamonds, which can be used to purchase various in-game items such as costumes, jewelry, coupons, and more. Diamonds are also essential for expanding heirs and characters.
While players can earn Diamonds for free by completing specific tasks like watching ads, participating in events, and hosting feasts, the amount received is often small. Therefore, many players choose to buy more Diamonds online.
To buy Diamonds online, you can use the in-game top-up service for Game of Sultans. However, this service might have limited options and inconvenient payment methods that may not accommodate players from different regions.
But don't worry, because there is an easier, faster, and more secure way to top up your Game of Sultans account. MMOSKY offers a wide variety of interesting offers and payment methods to accommodate buyers from around the world.
Here's how you can buy Game of Sultans Top Up on MMOSKY

?
Getting your required amount of  Game of Sultans Top Up at MMOSKY is easier than ever before. You will need to follow the steps below;
Select your required amount of  Game of Sultans Top Up

Click on the button "Add to Cart"

A separate Tab will open on the front, where you will have to choose the server and the quantity of  Game of Sultans Top Up

Then you can further "Add to Cart" in case you want to shop other things from MMOSKY or you can simply click "Buy Now" to place the order right away.

Now, you are precisely at the Shopping Cart, where you can see your order, and below there is a page where you will have to Fill in your Contact Details. 

Finally, selecting the method of payment and pressing "Proceed to Checkout" will place your order. 

In case you are having difficulty, you can contact the Live Chat or you can also email [email protected]
Which Payment Methods Are Available at MMOSKY?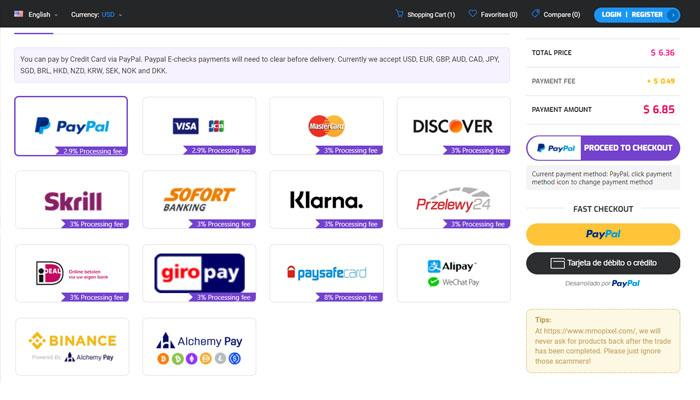 As you can notice in the screenshot above, at MMOSKY, we have over a dozen payment methods at your disposal. As a buyer, you can choose the one of your preference to complete your transaction. Keep in mind that any of these methods has its own processing fee. Anyway, our site has cheaper fees than any seller on the Internet.
About Game of Sultans
Game of Sultans is an RPG where players can experience the life of a European or Middle Eastern King. This game was released in 2018 for Android and iOS devices.
Set in the Ottoman Empire, players must live the life of a king, building their kingdom, finding the dream empress, strategizing, obtaining pets, and creating heirs to continue their authority.
Security Guarantee

Our website supports many Global Currencies with 100% safe payment methods to buy cheap Game of Sultans Top Up conveniently.
Lowest Price

We have enough cheap Game of Sultans Top Up Up in stock, to give you one of the best services on the market. We always keep the lowest price for  Game of Sultans Top Up and items for all platforms.
Quick Delivery

As it's crucial for us to keep stock levels high, we usually deliver your order immediately. However, there may be some factors beyond our control that may cause delays in delivery. Still, all orders are generally completed within 24 hours.
Besides, our delivery system is easy to order, products are safe to buy, and customers are provided with 24/7 Live Chat online that solves any transaction problems regarding the purchase of your cheap Game of Sultans Top Up!
100% Secure Transaction

Our professional online service allows us to efficiently deal with all kinds of issues and mistakes. Besides, we guarantee   purchase is 100% safe.However, in case anything goes wrong, we offer a refund policy.
Refund Policy

Our refund policy generally takes away all worries about buying Game of Sultans Top Up on different servers. You can always request a full refund back if the Game of Sultans Top Up has not already been delivered!